Steam train of Pelion
Details

Last Updated: 27 June 2020

Hits: 13487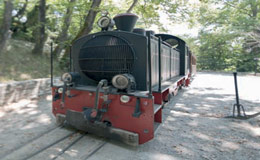 The train's story and the myths of Mt. Pelion combined in a single magical ride! This historical train that used to operate the whole route between Volos and Milies has been running literally on the tracks of history. Construction began in 1881 and in 1896...
Read more ...
4 Troxoi - April 2001 - Issue 367
Details

Last Updated: 27 March 2017

Hits: 3361
Ακόμα και οι τακτικοί επισκέπτες του βουνού των Κενταύρων θα εκπλαγούν από την ομορφιά που αποκαλύπτεται στα μάτια τους και στην ψυχή τους ύστερα από μια, έστω και μικρή, διαδρομή στις πλαγιές του στη ράχη ενός αλόγου. ..
Read more ...